The Present
The Museum Today 
Since its opening in November 1992, the museum has become a hub of information and objects relating to early public schooling in NSW. It has a comprehensive collection of furniture, objects, books, documents and photographs relating to public primary education in NSW that is owned and managed by the NSW Schoolhouse Museum of Public Education Inc. Some objects are available for hire, as are the restored schoolrooms.
The NSW Schoolhouse Museum is a popular excursion venue for schools. Students participate in a hands-on education program interacting with artefacts and re-enacting early school lessons and activities. The education program is managed and run by qualified teachers and experienced facilitators.
The museum is also open for group tours and the general public by appointment.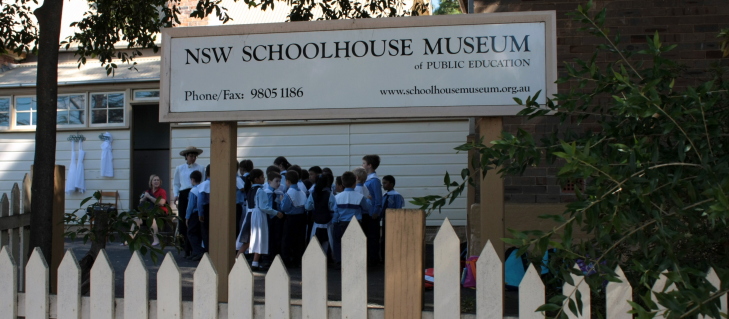 Management 
The NSW Schoolhouse Museum of Public Education is a non-profit, incorporated body managed by a voluntary committee. The education program, collection management, staffing, maintenance and conservation work are fully funded by visit and hire fees.
The general running of the museum's finances, building and maintenance, collection and management and education is overseen by the museum committee. The committee meets on a Monday evening or afternoon in about the fourth week of each term. The Annual General Meeting is held in Term 3.
Enquiries about joining the organisation are welcome.
Volunteer Opportunities
At present the museum does not provide a structured volunteer program but opportunities currently exist for assisting in expanding our online database and digitizing the collection. These include data entry and scanning items.
Enquiries about volunteering are welcome.
Phone/Fax 02 9805 1186