About
Our History
Wallumedegal Country
The Wallumedegal Peoples of the Darug Nation are the Traditional Owners of the land on which NSW Schoolhouse Museum and North Ryde Public School stand. The word Wallumedegal, also spelt Wallumattagal, probably derived from the word 'wallumai' meaning snapper fish and 'matta' meaning place, often a water place. Devastatingly, most of the population was decimated by the smallpox epidemic of 1789 but Aboriginal culture survived and continues.  
We pay our respect to Elders past and present and acknowledge and respect the continuation of cultural, spiritual and educational practices of Aboriginal Peoples on this land.
School Buildings
The brick buildings of the NSW Schoolhouse Museum are the first school buildings of North Ryde Public School, dating back to 1877. Farmland at the time, the local community lobbied the government to provide a school for their children. A single schoolroom with separate teacher's residence was built on one acre of land donated by Richard Wicks in 1877. The school, named City View Public School, opened on the 25th January 1878 to 45 pupils taught by teacher Charles Crew. Its name changed to North Ryde Public School in 1879.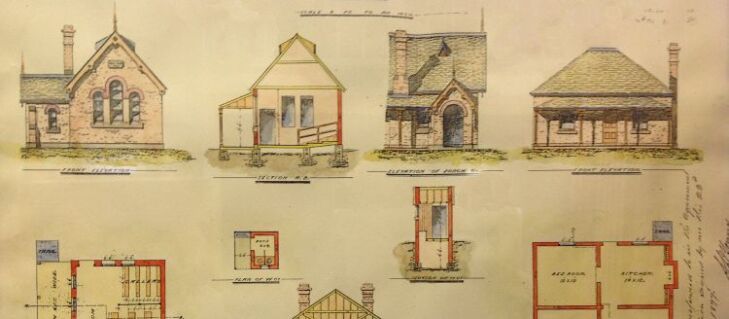 By the early 1890s up to 76 pupils were crowded into the single schoolroom so a second room was added in 1893. Two more rooms were added in 1910 as the school population reached 133. Extra playing area was also acquired, from Mr W J Cox.
Over the years the 1877 and 1893 rooms had various uses such as library, staffroom and headmaster's office while the 1910 rooms were used as classrooms until 1985. The teacher's residence was demolished in the 1960s.
In 1986 the rooms were converted to district offices for the Department of Education and when they were vacated, school and community members successfully lobbied to preserve the buildings and establish a museum. The Historic Building Group of the Government Architect's Branch described the buildings as 'a fine example of the sequential architectural and educational development of the basic schoolroom and classroom buildings over the periods from 1877 to 1910'. 
The building and rooms were restored by a group of volunteers during 1992 using the original plans. The museum officially opened in November 1992 by the  Minister for Education at the time, the Hon. Virginia Chadwick. 
In this image ex-teacher and volunteer Lindsay Hill is making preparations to reinstate the chimney of the 1893 building. The ugly brick toilet block at the front of the building was demolished and the 1893 weatherboard veranda reinstated using timbers from the demolished Marsfield Public School.